For a year or so we lived about an hour from Nashville, Tennessee, but life always seemed to get in the way of us really exploring this wonderful location. Since we were already planning to head to Kentucky to celebrate Christmas with my husband's family and have to pass through Nashville to get there, we decided it would be nice to take a breather on the way back and explore what Nashville has to offer for the Holidays. Here are some of the sights we took in and what we loved most about them.
My husband has always wanted to try a Kobe steak. What I didn't realize was how rare Kobe actually was, but when I stumbled upon the menu at Jeff Ruby's Steakhouse and saw they have Japanese A5 Wagyu, I knew this was a place we needed to visit. I wasn't sure how crowded it would be, so I went ahead and made a reservation before we arrived.
When we arrived, we were immediately taken to our table and were greeted by a few different employees. They provided us with an extensive wine list and a cocktail menu filled with drinks that looked like they came out of the roaring 20s. My husband ordered me the El Jefe Margarita and himself a Sidecar Named Desire. They were so good! While we waited for dinner to prepared, they brought us oven-fresh sour dough bread with a plate of butter – half was unsalted butter and the other half was a delicious truffled butter (if you don't know what a truffle is, I highly suggest you try it!). My husband ordered their signature Godfather Sushi roll. I am not a seafood person by any means, but after I popped the lobster out of the roll, the rest of it was delicious and my husband really enjoyed it fully intact! For dinner, he had his bucket list steak – a 6 oz Japanese A5 Wagyu. The kiddo and I shared a 12 oz dry aged filet mignon. Sides are served family style so we enjoyed their Truffle Cream Corn, Brussels Sprouts with a Brandy-Maple Glaze, and their infamous Jeff Ruby's Baked Macaroni and Cheese (which has been featured on the Food Network!).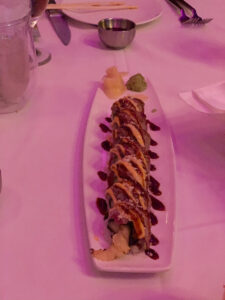 We skipped dessert at Jeff Ruby's (although I'm sure it was just as amazing as the main course) and opted to walk around the block to Legendairy Milkshake Bar. I can credit this find 100% to my husband and we were not disappointed. Their Cookie-Doughlicious milkshake was featured on The Cooking Channel as "The Best Thing I Ever Ate." Kiddo chose their Magestic Unicorn while I enjoyed a kids' size Playing in the Dirt and my husband grabbed Milk(shake) & Cookies. We highly recommend visiting this place if you're in town.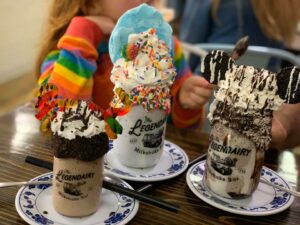 On our way back to the hotel, we took trekked through the heart of Broadway. There were bands playing in every restaurant and a ton of people. As an adult it was enjoyable, but I would not suggest taking little ones here at night, as the crowds can get kind of rowdy.
In the morning we had planned to go to Caviar & Bananas, however, after walking nearly a half an hour to get there, we discovered it was closed. We kept seeing scooters for rent strewn all over the city and finally decided to give them a whirl. We opted to rent through an app called Spin and it was the best money we felt we had ever spent. We highly recommend renting these as you explore, as they will cut down walking time tremendously and they're pretty fun to ride! Use promo code HKFREEMA to score your first ride FREE. We utilized these handy gadgets the remainder of our trip.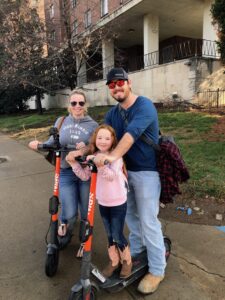 We figured we would find another breakfast place along the way to Centennial Park and came across Sun & Fork. There wasn't a wait and everything prepared there was farm to table fresh, which is something we really enjoy. Since it was nearly lunch time at this point, I oped for a Roast Beef & Havarti Sandwich with a side of horseradish. It was so filling I could only eat half of it. My husband enjoyed his traditional breakfast (Toast, Egg, Bacon, Skillet Potatoes) and our daughter loved her chocolate chip pancakes. We filled our bellies and off we went.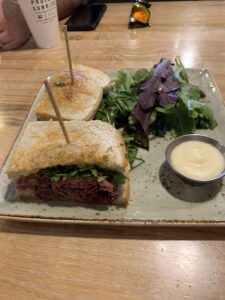 Unknown to most, Nashville is home to a full-scale replica of the Parthenon complete with a 42 foot statute of Athena inside. Erected as a temporary structure in 1897 as an exhibit for the Tennessee Centennial Exposition, the pillars were eventually permanently made with casts formed from the pillars of the original Parthenon, located in Athens, Greece. Nashville's art museum is also located in this building. The collection features 63 pieces of artwork from the 19th and 20th centuries donated by James M. Cowan. There was a small admission charge ($6 for adults, $4 children), but it was worth seeing at least once.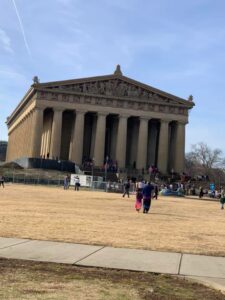 From there we explored Broadway in the daylight and head towards the river. Directly across from the river you can see Nissan Stadium where the Tennessee Titans play. I will note, I do not recommend trying to drive your Spin scooter through the crowds as it will be nearly impossible to navigate. Park it right before the crowds begin.
You all know I wasn't about to go an entire trip without checking out a local coffee shop or two. We stumbled upon Drug Store Coffee Shop located inside the Noelle Hotel. It was a very quiet coffee shop, which was wonderful. My Iced Mocha tasted just like a chocolate covered coffee bean and was the pick me up I needed. My husband selected an iced cuban coffee while kiddo drank a handcrafted chocolate milk.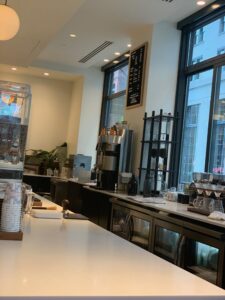 Afterwards, we continued to scooter around town until dinnertime. It was suggested by quite a few of y'all that we should check out Blake Shelton's Ole Red Restaurant. It was a 45-minute wait, so try to call ahead if you can. The ambience was what you would expect of Nashville — a live band playing on the stage and people dancing, having a good time. We decided to order the Redneck Nachos for our appetizer and it quickly became my entire meal. It was HUGE! My husband, being a steak guy, opted for their ribeye with mashed potatoes and homemade biscuits. I need that mashed potato recipe because it was delicious!
Every year the legendary Gaylord Opryland Hotel hosts an enormous ice exhibit. This years theme was A Christmas Story. (If you have never watched this Christmas classic, I suggest you stop right here and go check it out. We will be here when you're finished.) One of the most amazing features of this exhibit is the fact that is interactive! Each sculpture is hand carved from 36 truck loads of ice that is brought in over a three-week period. It's a chilly 9 degree fahrenheit inside, and they do provide blue parkas for guests to wear. My daughter absolutely loved the gigantic ice slide complete with a huge Santa clause carved so it looks like he's kicking you down the slide. I will admit, I did get stuck on the slide!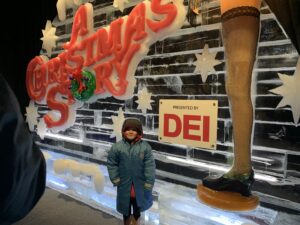 All-in-all it was an amazing weekend in Nashville, Tennessee and the perfect way to reconnect as a family after traveling for the holidays. I would love to go back and explore the other parts of the city, such as the Country Music Hall of Fame and Cheekwood Estate & Gardens. I feel as though Nashville is the type of city that is different every time you visit.
Are there any cities you've always wanted to explore but haven't had a chance to? What about your favorite city? We would LOVE to know!
Make sure you follow us over on YouTube to catch our Vlog about Nashville when we get it uploaded!
---
Coffee. Mom. Repeat. may earn a small commission via affiliate links in this post. You can view our whole disclosure policy HERE.