When I met my husband, I could not wait to start a family with him. I knew almost instantly that I wanted a life with him and we started talking about children shortly after we met. We both wanted quite a few and even had names picked out for four of them. Three months after we were married, I was pregnant. We were ecstatic! Our family was about to welcome a little Maddyn Michelle or Noah Christopher. We both secretly hoped it would be a boy because we felt as though our daughter(s) deserved an older brother to both torment and protect them. It turns out we were having a little girl. I remember sitting on the ultrasound table and accidentally saying, "Oh man!" out loud when the technician announced her gender. But, I knew I would still love that little girl fiercely.
I remember the first time my husband and I saw my belly move. We were so excited to watch our little one dance. I was so excited for all of the things to come with motherhood. I loved shopping for her and couldn't wait for the matching "mommy & me" outfits.
Fast forward to my labor and delivery. When the nurses asked me if I wanted to hold my daughter immediately or if I would prefer her to be cleaned up first, I opted to have her cleaned. Looking back, I think this was my first inclination that I would not be immediately connected to this little life I had just brought into the world. We stayed a few days in the hospital afterwards due her having a slight case of jaundice and although I was excited to have a little one, I didn't immediately feel those motherly feelings. I don't know if I was expecting my Cinderella moment where I transformed into the world's greatest mother or what, but it wasn't there. It felt as though she was just a child I was looking after while her real parents were off at work. It was the strangest feeling I have ever experienced.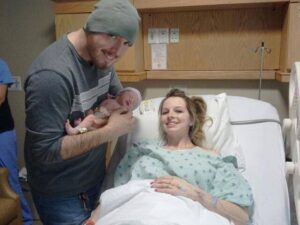 Bringing her home was rough because I had to take her away from her father at just five days old because he was working in Georgia at the time and I was still living in Kentucky. I was transitioning to move to Georgia after her birth, but the house wasn't packed up just yet so we couldn't just yet. I still felt as though I was babysitting this child full-time and that she was not mine. When she was two weeks old, we had some amazing family members offer to help us move so our family could be reunited and we set off for Georgia.
Once we arrived, my husband was placed on night shift. He worked 12-14 hours a day, 7 days a week. For the next 6 months I felt as though I was a single mother. We were able to spend an hour or two a day with him, but other than that, I was alone in the house and didn't know a soul in that state, trying to raise a newborn. All of my family were up North and although I knew I could call them for advice, I couldn't ask them to come help me in any way. On top of that I was battling some serious postpartum depression and postpartum anxiety that I had no idea how to handle. Nobody prepares you for anything like PPA or PPD — in fact, it was never even mentioned to me during any of my visits to the obstetrician.
When my PPA set in, it was originally diagnosed as thoughts-intrusive obsessive compulsive disorder, and might still actually be that, but after reading other articles about PPA, I'm beginning to wonder otherwise. My thoughts were consumed by the fact that I had intentionally brought a life into the world that will ultimately die someday and it made me feel like a terrible person. I also focused on the negative in the world — wars, domestic terrorism, random shootings, etc. and if I drove past a cemetery, I would be thrown into a full-fledged panic attack. We once attended an outdoor concert and I could not leave it fast enough once the anxiety set in.
I saw a psychiatrist who immediately medicated me. He failed to explain what was going on so I was still left in the dark about what was happening. Only this time, I was trying to become acclimated to medication that made me feel like a zombie. The Ativan and Celexa combination caused me to take a few minutes to answer a simple question, and with a newborn in the house, I knew this could be dangerous. So, I stopped cold turkey. I also stopped seeing that psychiatrist.
The entire time I continued to feel as though I was not this child's mother. I fed her, changed her, bathed her, but I had zero desire to play with her and did not fuss over her like a new mother should. We were coming up on 6 months of her life at this point. I felt so detached from my daughter that I didn't have any problem allowing my mother-in-law to take her to a completely different state for two weeks so my husband and I could pack the house up to move yet again because his project in Georgia had finished.
These feelings continued on for the next few years and she is now almost seven years old. When she started her first day of Preschool, I didn't cry and it made me feel so guilty. Don't get me wrong, I love my daughter and care for her deeply, but I am no Mary Poppins. There isn't song and dance in everything we do and we don't run around the park like a "normal" mother should. Part of me still feels as though her parents are going to show up at any moment and take her home. I enjoy watching movies with her and love seeing her face light up when she learns something new during our school day, but the desire to get down on the floor to play Barbies or to play house or dress-up just isn't there. I would much rather visit a museum with her or watch her play independently. So that leads me to wonder: Was I born without the mom gene?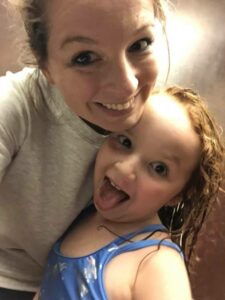 As I scroll through social media or even encounter other families along the way, I see how interactive and excited they are with their little ones. I see the crafts, the play time, the craziness in their lives. Part of me yearns for that and feels completely guilty that I am, for some reason, unable to provide that type of lifestyle for my daughter. The other part is just numb to it and doesn't want to even consider trying to be "that mom."
So, now I wonder, is there a mom gene or is there just so much societal pressure to be the perfect mother, wife, person in general? Either way, I just hope I'm raising a happy, healthy human being
---
Coffee. Mom. Repeat. may earn a small commission via affiliate links in this post. You can view our whole disclosure policy HERE.