A few years ago I started researching CBD oils to help with my anxiety. I immediately fell in love with them because they helped so much. The only downfall was the aftertaste.
Let's take a minute to talk about this CBD infused coffee from Civilized Coffee. ☕️ (Stop here for a second and go give them a "like")  I love that they infused their Tanzanian Peaberries in a way where the CBD does not affect the taste of the beans at all. Each cup contains an average of 10mg Cannabidiol.
Y'all, this stuff is absolutely delicious!
It comes in three different roasts/concentrations: 2.5 mg, 5 mg, and 10 mg. My first day I did the 10mg and while I felt like I could conquer the world, it also made me feel very sleepy so I have reserved the remainder of this bag to an after dinner coffee. (Please note: this may not be the case for you). The next day I switched to the 2.5mg and wowie! Just as amazing as the 10mg, but no drowsiness!
This has been my go-to coffee all week. I would drink it all day long just for the flavor! This isn't my first rodeo with Civilized Coffee & so far they've all been amazing. (Step aside, Starbucks!) ?
If you are looking for an amazing tasting coffee at a decent price (from a micro-roaster no less), then I can confidently recommend Civilized.  Seriously, give them a try & then let us know what you think!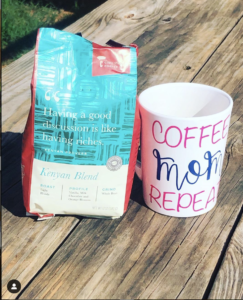 You can grab their CBD infused coffees HERE: http://bit.ly/31ueGLw
or any of their other roasts HERE: https://amzn.to/35MBiuc aff
---
Coffee. Mom. Repeat. may earn a small commission via affiliate links in this post. You can view our whole disclosure policy HERE.