As summer continues on, we are discovering more ways to take our play outdoors. This puffy sidewalk chalk paint was easy and fun to make. My daughter had a blast drawing creations.
What you need:
Flour
Water
Food Coloring
Dish soap
Here's How:
In a gallon Ziploc bag, combine 1 cup water, 1 cup flour, and 1 tbsp dish soap along with a few drops of food coloring (depending on how light or dark you want your chalk paint).
Seal bag closed and squeeze bag to mix contents. Note: You want to make sure all the flour is combined so you don't have lumps — they will get stuck inside the nozzle of the bottles.
Clip the edge of the gallon bag a bit and squeeze contents slowly into bottle. Note: a funnel also works great for this step.
Replace top on squeeze bottle and give it a good shake to ensure contents are thoroughly combined.
Squeeze slowly into sidewalk & enjoy your creations!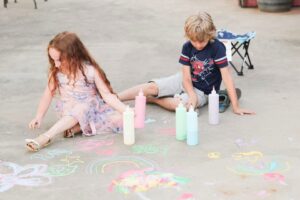 ---
Coffee. Mom. Repeat. may earn a small commission via affiliate links in this post. You can view our whole disclosure policy HERE.