Ever since my daughter was a toddler, we have enjoyed feeding the birds and identifying the types in whatever area of the country we are in. Our favorite birds are the Downy Woodpecker and Mourning Dove. We love going to our local lawn & garden store and looking at the feeders they have available. Today, we decided to make our own feeder using some craft sticks we had in our crafting box. Here is the result. We hope your child enjoys making this project as much as we did!
Materials: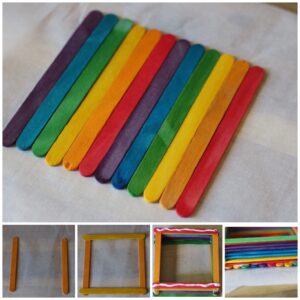 Directions:
Line up 12 sticks, side to side, to form the bottom.
Using either the Tacky Glue or hot glue gun, attach 3 craft sticks in the opposite direction of the 12 sticks you just laid out (top, middle, bottom). This will keep the bottom secured together and provide stability. Set to the side to dry.
To form the main compartment of the bird feeder, lay two sticks out and put a dab of glue at each end of the stick. Lay two more sticks down, in the opposite direction. Continue in this pattern until you have reached the desired height. Set aside to dry.
Once both parts are dry, glue the top and bottom together. Allow to dry.
Attach your string, hang from a tree or hook, fill with birdseed, and watch the birds as they come to enjoy a snack!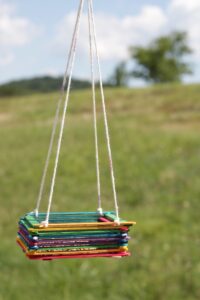 ---
Coffee. Mom. Repeat. may earn a small commission via affiliate links in this post. You can view our whole disclosure policy HERE.