If you've been following us for a while, you know that we are constantly on the move as we follow my husband around the country for his career. (You can read about our unconventional life here.) Today, my kiddo and I decided to venture to Rutherfordton, North Carolina to check out what this small town has to offer. We had a blast exploring and, believe it or not, I am pretty sure her favorite part was visit the Chamber of Commerce and looking at all of the pamphlets filled with things to do!
We started the day off at Norris Public Library. I saw on Facebook that they were hosting Kidsenses for a "Ring Around The Planets" presentation for little ones. My daughter loves space, especially Pluto, so I knew it would be perfect for her. We threw the address into our GPS and off we went! Turkey was so excited to learn about the moon and says that her favorite part was creating the moon phases with an Oreo cookie.
"Mama! I accidentally ate the space part instead of the cream!"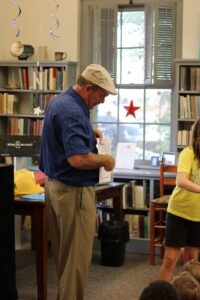 Steve, the presenter, was great with the children and I could just tell he was enjoying watching them learn. After the presentation, we hung around exploring the library a little bit. My daughter loved their dedicated children's room and was really excited to find a DogMan Book.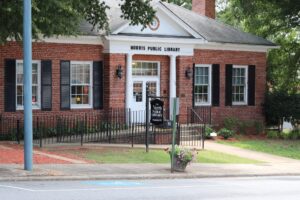 You can learn more about what events the library offers and a bit of its history HERE. 
I was able to convince my little one that it was time to keep exploring around lunchtime. Instead of jumping in our vehicle and heading to the nearest fast food joint, we took a stroll along Main Street. Next door the Norris Public Library is the Rutherford County Chamber of Commerce. As soon as you walk in you see a room filled with information on things to do in Rutherford County and the surrounding areas. We loved looking at the walls and pamphlets to see what other adventures we could go on. I am pretty sure my child took one of each pamphlet and is currently trying to plan a vacation for us. She really wants to follow the Appalachian Mural Trail and find some of the historical markers listed in another booklet. I highly recommend you stop here to find other things to do in the area that you might not see on Google! I am pretty excited to continue to explore where we are while we're parked here!

We were both pretty hungry at this point and just couldn't help but stop at Bee Happy Eats and Sweets. The restaurant itself is absolutely adorable. As the name suggests, it has has a Bee theme for its decor. It's very open and the gentleman working the counter was extremely attentive and had a great personality.
My daughter opted for a plain hotdog (because, you know, kids can never seem to try something new) and my stomach set on their Roast Beef Panini with Caramelized Onions. Kiddo and I sat down and decided to peruse their portfolio of cakes they have completed in the past (Hint: if you're looking for a custom cake, they seem to make them all!). She really liked the photo of the unicorn cake she saw.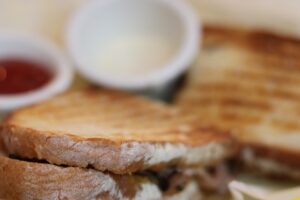 Verdict: the food at this establishment is amazing. My panini was served with a side of horseradish sauce and it complemented the beef and cheddar perfectly. I definitely recommend stopping by Bee Happy if your'e in the area and need a great bite to eat.
Right down the street from Bee Happy you will find Main Street Park. There are a few sitting benches, some paintings, and potted flowers. At the entrance you will also find a map of Rutherfordton that showcases all the area businesses. This would be a great place to enjoy lunch or a snack.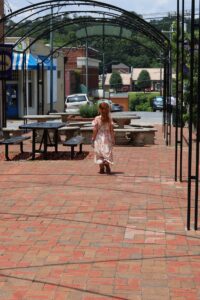 We continued on our walk and came across Main Street Coffee & Ice Cream. Being that my daughter is six years old, you know we had to stop as soon as she spotted it. She beelined it to the Mint Chocolate Chip with gummy bears on top. This little ice cream/coffee parlor was so cozy inside and looked like a great place to sit with a friend or two or even take your laptop and work. Their prices were extremely affordable, too!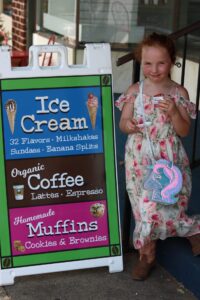 We finished off our day just strolling the local shops and window shopping. After all the sugar from her ice cream she started to crash pretty fast so we wrapped it up.  As we were leaving Main Street, we saw the St. John's Episcopal Church, which was really nice to see. I snapped a photo, but I didn't stop. It's now a yoga studio, if you want to check it out!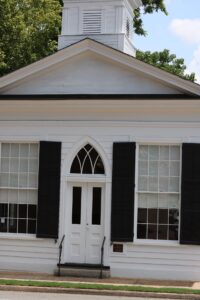 There are a few other places to visit that we didn't get a chance to. The Bechtler House seemed very interesting to myself, but I didn't think it would keep the attention of my daughter. I have also heard about a local brewery, Yellow Sun Brewing Co., that has great beers and amazing pizza. I might snag my husband for a date night and check it out before we move again!
Stay tuned for more daytime and weekend adventures as we try to make more memories this summer!