Where Are You From? Our Unconventional Life
Written by Heather Freeman
"Where are you from?"
That has to be one of the most confusing questions anybody can ask me. I never know exactly how to answer and normally just respond with, "everywhere" and in return I get the most unique looks.
As of February 2019, I have lived in three different states so far this year. Yes, you read that right. Three states. I started the year in Michigan, ventured on over to Minnesota for a bit, and now I'm nestled in the mountains in North Carolina. I imagine we will move an additional two or three times before the year ends. In that time we have also visited Kentucky, New York, and Jamaica. This year has been hectic, to say the least.
The reason for all the relocation is for my husband's career as an industrial construction manager. In order to move efficiently we live in a 42′ fifth wheel camper. It has more than enough room for both my husband and myself along with our six year old daughter and our two medium-sized dogs. Our camper has a bunkhouse with loft so our daughter still has her own space.
I first met my husband eight years ago when he was working as a rigger in Tennessee. I had just moved from California and had no idea that there were individuals and families out there that travel for work. We were expecting to be in Tennessee for a few years and actually lived a few miles from the Tennessee border in Kentucky, but he was offered an opportunity he couldn't pass up in Georgia. He moved to Georgia when I was 8 months pregnant. Since we had a house at that time, I stayed back to pack up and await the arrival of our daughter. I ended up driving from Kentucky to Georgia a day and a half before she was born so my husband would not miss the birth of his first child. (Don't worry, ladies, although my obstetrician thought I was crazy, he understood and cleared me go since I was 41 weeks and not dilated at all.) Five days after our little bundle arrived, I headed back to Kentucky to finish packing and wait for my husband to be able to get off enough time to move us down with him. Thankfully, some amazing family members offered to move us down to be with him and we were only apart approximately a week.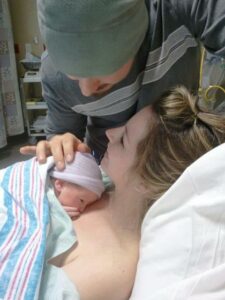 We lived in Georgia from February 2013 until July 2013. The project in Georgia reached completion and we ventured to the next job in a different part of Kentucky. That's when we moved into our first camper. It was a very small bumper pull without an oven or slide-outs. If you've ever been in a camper for any length of time, you know the importance of slide-outs! They provide so much more room to move around. During that time, my husband worked as a mine drill operator, but the company paid just enough to keep us off government benefits, but not enough to be able to care for our family financially, which was hard considering the cost of formula. (If you're wondering why I didn't breastfeed when it's free, it's because I was never taught the benefits of or how to breastfeed. I was left very much in the dark by my doctor and did not have close family nearby to teach me about such things.) In February 2014, my husband was offered a position in Cheyenne, WY.
The trip to Wyoming felt like it took forever. We left Kentucky in the middle of an ice storm and it took us 3 days to reach the hotel in Wyoming. We were unable to take the camper with us because of the status of the roads. We lived in a motel there in Wyoming for a month before we decided to purchase a 36′ fifth wheel. We did this to not only give us more room as a family, but also to save money versus the weekly rate we were being charged for a small room at the motel. Let me tell you, Wyoming is beautiful! It was definitely one of our favorite states to live in. My husband climbed to the top of Mount Elbert (the highest peak of the Colorado Rockies) on his own and on a whim one day. The wind was a bit odd to get used to, but you just learn to walk with a lean!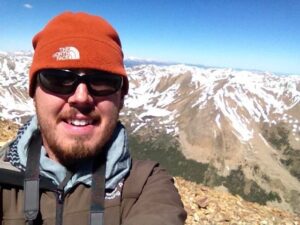 The project in Wyoming completed July 2014. From there we hit the road to the Columbia, South Carolina area for what we anticipated to be a long-term project. We grew so much as a family and as individuals during the time we spent in South Carolina. We explored the state, our daughter started preschool and so much more. My husband was told frequently that the project duration would be 6-10 years so in March 2016 we decided to purchase our first house. We purchased a cozy little cape cod that needed a lot of updating. We were so excited to be homeowners!
While on the project in South Carolina, my husband grew in his career. He went in as a light equipment operator and was quickly promoted to heavy equipment operator and finally a civil foreman. Around the same time we purchased the house, I was offered a position as an insurance agent and happily accepted, learning everything I was able to from the agent I worked under. I loved my job and the people I worked around. We were both pretty excited for the opportunities presented to us and were looking forward to staying in South Carolina for a while. On July 31, 2017, that all came tumbling down. "Nearly 5,000 people lost their contracting jobs at the V.C. Summer Nuclear Plant on Monday afternoon as SCE&G and Santee Cooper announced that they are abandoning the construction of two nuclear reactors at the plant. Many employees got word of the massive layoffs just before lunch." (WLTX.com). My husband was one of those 5,000 people. Nobody was given a warning or had even a clue that the project would be abandoned. A close friend of ours was even sitting in his first day of orientation for this project when word was given that they no longer had a job. It was a shock to the entire community.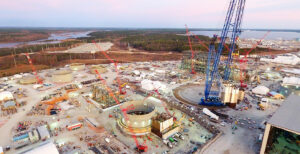 All 5,000+ people were now scrambling to secure jobs across the United States. Thankfully, my husband was able to quickly find a job in Florida installing solar panels. This was the only project we did not travel with him to. His friend and himself loaded up the camper and set off to Florida for a few weeks in August 2017. In September 2017 he was called to a project in Northwest Arkansas. I stayed in South Carolina until November 2017 and finished the remodel/updating of our home to prepare it to be rented out. It was not easy being away from my husband. I know it sounds cliche, but he really is my very best friend in the entire world. I spent November 2017 until May 2018 in Arkansas with him. That time was very rough on us as he was working 87+ hour workweeks for people who could care less how exhausted their operators were.
May 2018 we headed out to Asheville, North Carolina and were ecstatic! The area is absolutely beautiful and there is so much to do! However, we were again faced with him working long workdays and weeks. The campground we were also at had us parked in the middle of a parking lot with absolutely no shade. This made the summer's nearly unbearable and pushed our air conditioner beyond its limit.
In July 2017, he received the call of a lifetime from the gentleman he worked under while in Georgia, 4 years prior. This man had taken notice of my husbands high work ethic and saw enough potential in him to offer him a position as a construction manager. If you follow the construction circuit, I am sure you can imagine how much this promotion means. He essentially skipped 3 or 4 rungs of the corporate ladder. I cannot begin to tell you how proud of him I am. He has never stepped foot in a college classroom and was offered an amazing opportunity. So, we loaded up the camper and set out for Northern Michigan.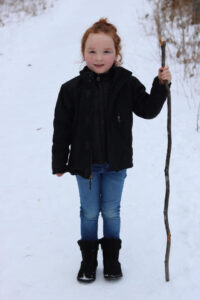 I had never been to Michigan before and didn't realize what a tourist destination it is in the summer. It is also a beautiful state and we thoroughly enjoyed our time there. My daughter was able to play in the snow for the first time, we stumbled upon so many unique festivals, and drank some awesome craft beer. My husband utilized that time to learn everything he could about construction management and continued to network and prove himself. His contract ended in January 2019 when he was informed he was needed just outside Minneapolis, Minnesota.
We moved to Minnesota the week of the polar vortex. Since it was -55*F with the wind chill, we lived at the Holiday Inn. We were able to visit the Mall of America, but not much more than that due to the weather and my husband's new schedule. At the end of February, he was anticipating being moved within the company to an alternated project in North Carolina, so we packed up and headed there. We pulled the camper to a campground and learned just how much it was in rough shape after sitting for a few months and being lived in for a few years prior. My husband was called back to Minnesota and I stayed behind to clear the old camper out, purchase a new one and move all of our stuff into it. You never realize just how much junk you have until you are forced to move! Not to mention, I had stuff shoved into every nook and cranny imaginable! I was blown away! But, with the help of my sister in law, everything was moved and now I'm spending my time organizing the new camper.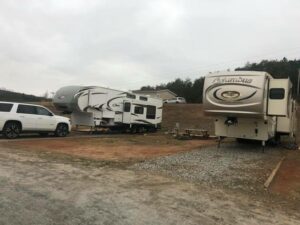 My husband is still in Minnesota and we are not sure when he will be back in North Carolina. His contract keeps getting extended, but I think the project will be nearing substantial completion so he will be able to come home soon. I haven't gone back to Minnesota since we keep thinking he will be done soon, plus two dogs and three people in a hotel room is rough. At least at the campground, my daughter can run around outside and the dogs prefer to spend their days outdoors.
We are waiting on a call from his Georgia/Michigan project manager for the next project and will pack up our camper and head that way once the call comes in. We have no idea where in the country that will be, but we're looking forward to continuing to travel the country. We love seeing the sites, experiences, and meeting new people. Each area we have lived in has it's own unique qualities and food (and boy do we love food!).
We may live an unconventional life, but we really enjoy this lifestyle.