At least half a dozen times a day I see questions as I scroll my Facebook newsfeed of people looking for legitimate ways to make money from home. A vast majority of them are not looking for a multi-level marketing scheme, but something they can do at home, in their pajamas, while continuing to care for their family.
Here, we have composed 25 awesome ways you can make money at home.
1) Be a Tutor
Did you major in history or biology in college? Are you a whiz with numbers? You can help struggling students or even those preparing to take their SATs by offering to become a tutor.
2) Teach Lessons
Do you possess a special skill? Can you cook? Crochet? Play the xylophone? All of these (and more) are great ways to earn an income simply by teaching others the skill you already possess.
3) Sell on Etsy
Similar to #2, you can take that skill one step further by selling your finished goods on an online marketplace such as Etsy. Rumor has it, you can make a pretty decent dollar.
4) Become a Blogger
Hey, we're trying our hand at it! You can create a website with any budget you have! Wix.com has great free options while wordpress.org has more templates (but comes with a price tag). To make money, you can use the free Google AdSense service to display advertisements on your site. The amount you're paid varies by ad and usually depends on how many people see it. There's also what's called affiliate marketing, in which you earn a commission (usually less than 10%) whenever someone clicks on an ad on your site and purchases a product. A little research will go a long way!
5) Sell Your Photos
And no, we're not talking about those ones you took for your boyfriend in college. If you possess a skill with a camera, websites such as shutterstock.com will turn your images into stock photos. If accepted, they pay anywhere from $0.25 to $125 per photo. Other sites that accept photos from contributors include iStock, Dreamstime and Sqeeqee. See also #15 below for another opportunity.
6) Sell Baked Goods
Working parents might not have the time to whip up a birthday cake or cupcakes for school parties. That's where you come in if you can create tasty baked goods. You can price according to your area, just make sure to check out your state and county laws regarding this. Cottage Law may apply.
7) Watch Other People's Children While You Watch Your Own
If you're not completely overwhelmed from your own children, you can throw a few more into the mix! Parents are always looking for safe, affordable, and loving environments for their children while they're at work or just need a break. Again, make sure to check out your state and county laws regarding this. You'll also want to speak with your local insurance agent to make sure you're covered accordingly, heaven forbid a serious accident occur.
8) Give Medical Transcription a Try
There is plenty of room in the medical world for billing and transcription. While you do need a degree or a certificate, a medical transcriptionist can work from home and make a median annual salary of $35,000. There may be grants and scholarships available in your area to help cover the cost of tuition.
9) Sign Up for Free Gift Cards
Ebates will give you a $10 gift card when you sign up and earn your first cashback rebate.  It's great for online shoppers.  Ebates is absolutely free to use. Simply visit the Ebates website and click through to the store you want to shop at. If you buy from the store Ebates gets a commission that they split with you.  It's an easy way to save. Click here to sign up for Ebates.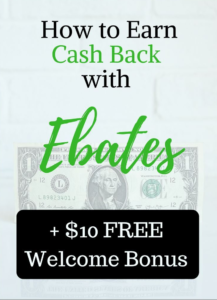 10) Become a Virtual Assistant
Work for someone from home. Virtual assistances (VAs) can do everything from checking emails and making travel plans to handling internet research or working for their small business.  High-end earners can command $50-$100 an hour. Some reputable sites are Zirtual and Upwork.
11) Pet Care
Most people consider their pets to be a part of their family and want to ensure their furry loved one is being taken care of while they are on vacation, at work, or out of town. Offering pet sitting and walking services can be a lucrative business. As with childcare, make sure to speak with your local insurance agent to ensure you are properly covered in the event of an accident.
12) House Cleaning
House cleaning companies charge a pretty penny for their services and you can get in on that action by offering your house-cleaning services. In addition, you could also do other people's odd-jobs or home maintenance projects.
13) Work for Amazon
Have you ever heard of Amazon Mechanical Turk? If not, you might want to check it out. These are services that require human interaction. You can work from home, flexible hours and get paid by one of the world's largest retailers.
Here are some examples of tasks workers have completed:
Select the correct spelling for these search terms
Is this website suitable for a general audience?
Find the item number for the product in this image
Rate the search results for these keywords
Are these two products the same?
Choose the appropriate category for products
Categorize the tone of this article
Translate a paragraph from English to French
14) Sell Lesson Plans
In addition to being a tutor, you can sell your lesson plans, especially to new teachers or first-year teachers. Teachers Pay Teachers is a market of educators, where you can sell and share your teaching resources.
15) Photography
Whether you are a photographer or you want to learn, there are so many ways you can market yourself and turn photography into a full-blown job. Blogs and websites will pay for food photography, lifestyle photos, and product photos. You can also see #5 above, for an additional way to earn money.
16) Professional Organizing
Your mother calls it OCD, you call it business. If you love organization you just might be the lifesaver that many people are looking for. They will pay for your services and advice when it comes to household organization.
17) Maintain Fan Pages
Fan pages on Twitter or Facebook require people to connect with them. Log on to Fiverr and get jobs for maintaining social media pages.
18) Serve as an Online Juror
You can sign up at a couple of sites and receive e-mail notifications if a case is posted in your area. EJury.com pays $5 to $10 per case via the online payment system PayPal. You can't be an attorney, paralegal or legal assistant – or even related to an attorney – to participate. EJury says you're likely to have better luck getting picked if you live in a large metropolitan area, where more cases are tried, rather than a rural area. The average case takes about 35 minutes to review. At OnlineVerdict.com, where cases typically take between 20 minutes and one hour to review, fees range from $20 to $60. Payment is made by check.
19) Tidy Up
You probably have much more stuff than you realize. According to The National Association of Homebuilders, the average house size in 1973 was 1,644 square feet. That grew to 2,624 square feet in 2014. Clean the dust, sort out your storage closet, and put up a garage sale.
If you are overwhelmed with "stuff" in your house, check out a great book called, The Life-Changing Magic of Tidying Up
. The book is about changing your perceptions of your things so you can keep what is really important and get rid of what is not.
20) Open a New Bank Account
A simple Google search for banks giving bonuses for opening accounts returns a list of current offers. Be careful to read the requirements, but if you have time, you can make a few hundred dollars.
21) Test Websites
Did you know some companies will pay you to test their websites? You can earn anywhere from $10-$50 per test.
22) Sell Your Books
Websites like half.com and bookscouter.com allow you to sell your old books on their website for cash, while Amazon will buy your old books and pay you with a gift card. It just all depends on what is in demand!
23) Purchase Groceries & Get Rebates
Many rebate apps like Ibotta offer cash rebates on grocery store purchases. You just have to take a picture of your grocery receipt with your phone, and you can even buy groceries from your regular grocery store.
24) Sell Your Junk Mail
What? You mean I can make cash from all of these flyers I receive? The Small Business Knowledge Center is a market research company that will take your junk mail and email and give you a Visa prepaid card.
25) Invest in Real Estate
Not everyone has "buy a house" kind of money.
You don't have to have hundreds of thousands of dollars to get started with Fundrise. You can get started with a minimum investment of just $500, and Fundrise does all the heavy lifting for you.
Through the Fundrise Starter Portfolio, your money will be split into two portfolios that support private real estate around the United States.
This isn't an obscure investment, though. You can see exactly which properties are included in your portfolios — like a set of townhomes in Snoqualmie, Washington, or an apartment building in Charlotte, North Carolina.
You can earn money through quarterly dividend payments and potential appreciation in the value of your shares, just like a stock. Cash flow typically comes from interest payments and property income (e.g. rent).
(But remember: Investments come with risk. While Fundrise has paid distributions every quarter since at least Q2 2016, dividend and principal payments are never guaranteed.)
You'll pay a 0.85% annual asset management fee and a 0.15% annual investment advisory fee.