For years I have experimented with make-up and all of the things that go along with it. I am no professional by any means, and am probably doing my contouring and eyebrows wrong, but one thing I have nailed down is strip lashes (also known as falsies, minkies, false lashes). One of my favorite things is to go to Sephora and look at all the different styles they have, choosing a few every now and then to play with. There are so many styles — from super subtle to full on glamour lashes that just make your eyes pop! I learned my favorite lash glue brand is Eylure Brand and they definitely need to be cut down to fit your face.
My biggest frustration is having to remove them every night (ripping off far too many lashes & skin cells than need be). I also loathe the days where the lashes or my body simply do not want to cooperate so I spend more time than necessary to put them on.
I have seen eyelash extensions rise in popularity lately but never pursued it. I read into them, looked at all the before & after photos, but for some reason I never bit the bullet even though false lashes definitely make me feel more comfortable, especially because my face is seen by so many of you over on our Facebook and Instagram.
My self-care has been lacking lately which has affected my mental health greatly. If you have been following my blog or Facebook for a while, you'll know that I am 100% in support of self-care. My husband noticed this, took the first step for me, and made me appointment. He told me to go, enjoy myself, unwind and relax. So, I did. And my life is forever changed!
My appointment was booked at Spa Bliss in Charleston, WV which has come highly rated to me by the friends I have made since we moved to West Virginia in July. One of the requirements, due to COVID, was that I did have to wear my mask the entire session, but it was not uncomfortable at all.
The lash technician met met at the door and escorted me to the chair where she does her work. The chair completely reclined and included a warmer so I would stay comfortable during the entire two hour session. She asked me what look I normally wear and got to work creating it. I wasn't quite sure what to expect, but she walked me through the entire process. I did have lash glue remnants she had to remove, but she was very gentle. She taped my bottom lashes down and out of the way, which felt weird, but I quickly got used to. I almost fell asleep in the chair, which is common for this service. She cleaned my lashes and applied a primer before starting. The entire service was painless.
The finished look was amazing! They look far more natural than strip lashes. The technician explained some do's and don't's to me (no mascara, no oil based eye products, don't get them wet for 24-48 hours, do wash them and brush them out w/ a lash cleaner, etc.) so I felt comfortable walking out. I knew I would be able to care for them. They shed with your natural lash so you don't have any more loss than normal.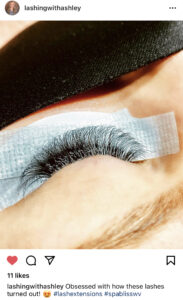 Not having to apply mascara, let alone the lashes themselves everyday, will be a complete game changer to me! I am so excited for that! The biggest part for me is having those few hours of uninterrupted time. I was able to be Heather — not mama, not wife, not entrepreneur — nothing more than Heather. It was definitely the pick-me-up I needed.
My favorite aspect of eyelash extensions is I can wake up in the morning and look as though I've just put on a fresh face. It makes me feel so amazing! Since my eyes are "popping," I can almost skip the foundation and still look put together. Taking care of them is super easy. Wash with 1:3 mixture of baby shampoo and water; fluff with a clean mascara wand and you're good to go!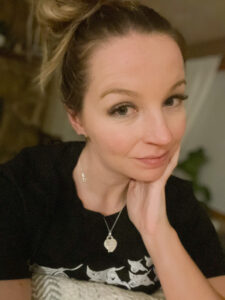 So, ladies, if you're on the fence, I am telling you right now to go for it! It's completely worth it. If beauty is your favorite way to take care of yourself so you feel human again, do what's best for you! I know I will continue this service and look for more ways I can decompress and practice self-care!
---
Coffee. Mom. Repeat. may earn a small commission via affiliate links in this post. You can view our whole disclosure policy HERE.