If you follow any sort of Hollywood gossip, you will likely spot a celebrity wearing the ever coveted Christian Louboutin Red Bottom Heels. They're a staple on red carpets and in any high-powered show (ie. Suits). We've been eyeing them for a few years and finally decided to bite the bullet and purchase two pairs to provide y'all with an honest review.
The famous Christian Louboutin opened his very first store in Paris back in 1992. His goal was to provide women with a heel they could feel comfortable and sexy in. The infamous red bottoms came about when he saw one of his employees painting her nails with a red nail polish. He painted the bottom of a pair of pumps and the rest was history. Since then, his red-soled shoes can be found on actors and actresses alike with a price tag ranging from $400 all the way up to $6,000.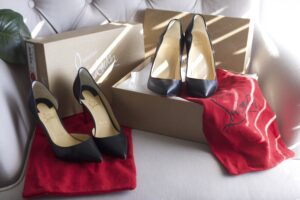 Our first pair we tried are the Hot Chick stilettos in the 100mm heel size (retail value $695). These pumps are made from Black Nappa Leather and offer a unique design towards the top of the shoe. I had trouble deciphering the sizing, so I opted for a size 37 which is a US size 7 according to the Christian Louboutin website (my typical size).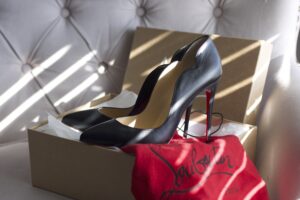 When they arrived, they were neatly packaged in their box which was wrapped in red tissue paper. Inside, I found two separate shoe storage bags as well as another smaller bag that contains extra heel points. As soon as I opened the box, I was in love! They look so gorgeous and I could not wait to try them on. However, I was kind of disappointed because they were a hair too small! The card inside the box states to try them on and walk on carpet, so you don't ruin the red sole, but I failed to read that until I had already stepped on small dirt particles, putting tiny indentations in the bottom. So, if you purchase a pair, please take note of this fact because they are not returnable at that point! I did read a separate article online that says you can stretch them naturally by wearing thick socks both inside and outside of the shoe and taking a stroll around your house. This worked a little for me, but I need to learn how to properly walk in heels before I continue on!
Since I had a difficult time walking comfortable in the 100mm stilettos, I opted for the 85mm version in our second pair. I wasn't quite sure if it was the heel height alone, or the fact that the Hot Chick's were a little too small, but I was excited for the Iriza style heels to arrive (retail value $695). These are a half d'Orsay pump that also feature the black Nappa leather. For this pair I went up half a size up, to 37.5 and they fit like a glove! I made sure to try them on while walking on carpet this time, just in case! They arrived packaged like the Hot Chick's, but also had a red bow tied around the box.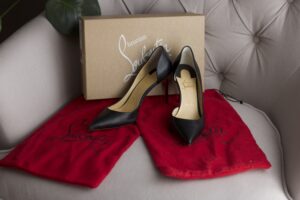 These have quickly become my favorite heels. The height is perfect for everyday wear and I cannot wait for it to stop snowing/raining so I can wear them more often!
The huge downside to these shoes, not including the price tag, is the fact that the red soles become damaged very quickly and easily. The Iriza's scuffed up more than the Hot Chicks, despite only being worn one time each, for approximately the same amount of time. One would think that for the price, the designer would be able to find a way to protect the red bottom a little better. Because of this fact, I believe both pairs of these shoes can be deemed special occasion only, or only for wear when you will be walking exclusively on carpet.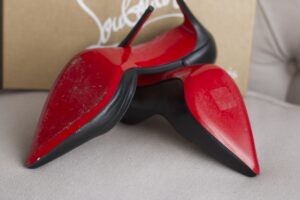 I do believe these will be the only two pairs I purchase because of the soles being so easily damaged. They're beautiful shoes and I definitely feel like a million bucks when I wear them! If you have a pair, feel free to let us know what you think! Also, please drop any tips you have below of learning to walk in such high heels — I'm going to need them!