A hobby that my seven year old and I share is bird watching. We love to set up as many feeders as we can and identify the birds that come to visit wherever we are. Lately we have also been experimenting to see which birds we can attract using different bird seeds. Recently, a squirrel ate our long tube feeder so we decided to recycle the milk jugs we had in our kitchen to make these awesome bird feeders.
At the end we decided to use sticks we found in the yard as perches by simply cutting small slits in the plastic and poking them through. She decided she wanted to use hers as a bird house, in hopes that she would wake up to baby Mourning Doves one day (her favorite bird). I loved watching her imagination soar as she decorated her milk jug, transforming it into a potential home for some wildlife.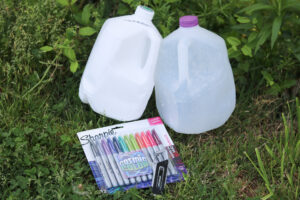 For this project you will need:
1 gallon milk jug, rinsed
Various permanent markers (or you could also use acrylic pants. Finger paints will wash off as soon as it rains)
Rope to hang
Sticks (optional)
Instructions:
Have an adult cut holes into the side of the milk jug. You can do circles, doors, or cut shapes. Just make sure the openings are large enough for a bird to get into to eat the birdseed inside.

Let's Decorate! Use your imagination as you paint or draw flowers, shapes, etc. onto the milk jug.

Loop your rope or string around the handle of the milk jug. This will allow you to hang it from a tree branch or shepherds hook.
Optional step: Cut very small slits into the plastic to poke your stick through to create a perch. You can hot glue these in for extra support, if desired.
Hang your bird feeder & fill with your favorite bird seed. Sit back and watch all of the various birds that come feast! For fun, you can keep track of each bird you identify in a journal.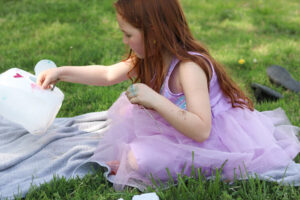 ---
Coffee. Mom. Repeat. may earn a small commission via affiliate links in this post. You can view our whole disclosure policy HERE.