We've all heard of Amazon and I'm pretty sure we've all fallen in love with it's simplicity. Not to mention, the prices on most items are a lot less than what you would find at a big box store. Anytime we're about to make a purchase outside of our grocery budget, I always make sure to check Amazon to see if I can save money by purchasing there.
Here are 16 of the best money saving secrets for saving money while shopping on
Amazon.com
.
1. Deep Discounts on Open Box Items
Did you know that Amazon has an entire section for Discount Items because the items were returned and the boxes were opened! You can save big just by purchasing an already opened item from the Amazon Warehouse. You can buy everything from printers, to watches, laptops, TVs, and more! This is similar to the stores you see slowly popping up around the country where you can purchase the returned goods at a fraction of the cost. I always loved to visit the one in Clarksville, TN to see what deals I could find!
2. Shop the Amazon Outlet
It's like an Outlet Mall, but online! Amazon has an entire section of Closeout Deals on items that are being discontinued. You can see all of the Amazon Outlet Deals Here, everything from Clearance Items, to Overstocks and more! All outlet deals are typically 30% off or more from the original prices and typically you are buying more than one item so make sure you calculate out the per unit cost so compare the prices on each item. My favorite deals are the Manager's Specials on Grocery and Gourmet Food! You can get some great deals on Organic Items, Snacks for Kids and more by shopping these deals.
Remember: the Outlet Deals change daily so you'll want to check back frequently and buy fast because these items do sell out since there are limited quantities available at the lowest prices.
3. Get the Best Prices on TVs with Price Matching
Did you know that Amazon will price match select online retailers for the lowest prices on TVs and Cell Phones? They don't price match everything, but they do offer a Low Price Guarantee on TVs and Cell Phones compared with this select list of retailers.
Amazon also has a 14 day guarantee on Cell Phone Prices with Service. Get all the details here.
4. Pre-Order DVDs and Books at their Lowest Price!
You can Pre-Order DVD's and books at their lowest price with Amazon's Price Guarantee, If the price decreases between your order time and the end of the day of the release date then you'll receive the lowest price. This is automatic, you don't even have to contact them! Your account will reflect the lowest price within 24-48 hours of the price change.
Pre-order Price Guarantee applies only to not-yet-released books, CDs, videos, DVDs, software, and video games sold by Amazon.com. It does not apply to other product lines or to items that have already been released.
5. Get Cash Back if the Price Drops!
If you find a lower price on Amazon after you make a purchase you can contact Amazon Customer Service and ask about a refund for the difference. Most of the time (depending on the item) they will adjust the price and give you back the difference. Remember, this has a 7 day window so it's a good idea to watch out for price drops after you make a purchase.
You can contact Amazon Customer Service here via Email, Phone or Live Chat.
6. Watch Free Movies & TV Shows
We all like to complain about the cost of Amazon Prime, but the truth is it's only $8.25 a month and I don't know anyone who doesn't LOVE their Prime Membership! For me, the benefits of being able to get free shipping on small purchases means I'm not adding items to my cart that I don't need (because I will seriously add $30 to my cart to avoid a $4.95 shipping fee. Admit it, you have, too!)!
Plus you get access to Thousands of Amazon Instant Videos and TV Shows for FREE With your Prime Membership. So Ditch Netflix and start taking advantage of all your Prime Membership has to offer!
Here are the Benefits of Prime: FREE 2 Day Shipping, Photo Storage, Free Kindle Books from the Lending Library, FREE Prime Instant Videos AND the New Prime Music! You can get a FREE 30 Day Trial of Prime and watch over 40,000 Movies & Shows for Free!
7. Read FREE Kindle Books without a Kindle
Amazon offers Hundreds of Free Kindle Books each Day. See the full list of the Best Selling FREE Kindle Books Here. You can read these Free Kindle Books (or any Kindle Book) Without purchasing a Kindle just by downloading the Free Reading App to your iPad, Smart Phone or Computer.
Download the FREE Kindle Reading App Here, then Check out the Huge Selection of FREE Kindle Books!
8. Trade in Your Stuff for Amazon Gift Cards!
It doesn't matter if you bought the items on Amazon or not, you can still trade in your stuff for FREE Amazon Gift Cards + Shipping is FREE! All you need to do is follow these simple steps:
1. Search for the item you would like to trade in (Movies, Textbooks, Electronics, Video Games, etc.)
2. Ship Your Items to Amazon for Free using Pre-Paid Shipping Labels
3. Get paid via Amazon Gift Cards in your account within 10 days after your trade in arrives!
9. Save 20% on Diapers with Amazon Mom
Calling all Moms, Grandmothers and Care Givers! Make sure you sign up for Amazon Mom to save up to 20% off Diapers, wipes and just about anything you need for baby! If you're new to Amazon Mom and Amazon Prime you'll get a 3 month trial of Amazon Prime, after that if you have an Amazon Prime Membership you can save 20% off Diapers when you use Subscribe and Save!
This is one of the best ways to save money on diapers AND you don't have to leave your house or clip coupons. You can stock up online from the comfort of your home and the 20% discount makes the prices on diapers really competitive!
You can Sign Up for Amazon Mom Here.
10. Save Add On Items for Later
You can get some great deals on Amazon by purchasing "Add On Items" these are items that are smaller quantities and price points, they ship free with any $25 or more order (even for Prime Members). You can add these items to your cart then click on "Save For Later" to save them in your account.
When you are making a purchase over $25 you can easily move these items back into your cart and checkout! These items will ship for free and it's a great way to remember what you needed to order.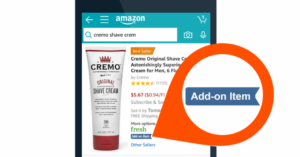 11. Prime Extensions for Missed Shipping
Did you know that you can get a refund on your shipping rates or a 1 Month Prime Extension if you're a prime member and Amazon misses the Shipping Deadlines! As with anything, I'm sure there are limitations — but if you have a package that doesn't show up on time make sure you contact customer service and see how they can help.
12. FREE Amazon Apps for Android Every Day
Every Morning Amazon releases a new Free App of the Day! You can get a New Free Android App Every Day and there's no limit on how many you can download! These are only available for 24 hours for free, then the price goes back up. This is a great way to build your app collection if you have an Android phone or device. You can see today's free app here.
13. Discounted Prime for College Students
If you are a college Student or you have a .edu email address you can sign up for Amazon Student. This will give you 6 Free Months of Amazon Prime + You'll get a Half Price Prime Membership after that which means you'll pay just $49 per year after your free trial is over. They will allow you to take advantage of this for up to 4 years!
If you know someone who is a Student, make sure you tell them to sign up for their Free 6 Month Free Trial, this is the longest free trial Amazon offers!
14. Save 15%+ with Subscribe and Save
If you purchase FIVE Subscribe and Save items in the same month you'll save a whopping 15% instead of 5%! You can cancel at any time so make sure you buy at least 5 items in a month to get the best deals! Subscribe and Save is an auto ship program, you can choose how often you want the item sent (Choose 6 months to give yourself the maximum amount of time to cancel) And you can cancel without any penalty before the item ships again.
Subscribe and Save Items also stack with Amazon Coupons for even bigger savings! Check out all theAmazon Coupons Here.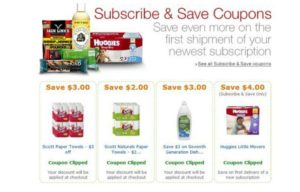 15. Share an Amazon Prime Membership
Did you know that you can share your Amazon Prime Membership with up to 4 other people? They won't have access to Free Prime Videos and Music, but they will be able to get Free 2 day shipping on thousands of items. You just need to know their birthday, and they need to know yours to verify their email. Just go to this page here to get started!
16. Get access to Twitch Prime!
My husband told me about this one and he has definitely taken advantage of it since he found out about it. Your Amazon Prime membership also includes a free membership to Twitch Prime!  This is an online community of gamers so you're able to both stream and view your favorite players anytime of day! It also gives you access to free games.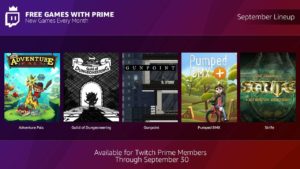 ---
Coffee. Mom. Repeat. may earn a small commission via affiliate links in this post. You can view our whole disclosure policy HERE.